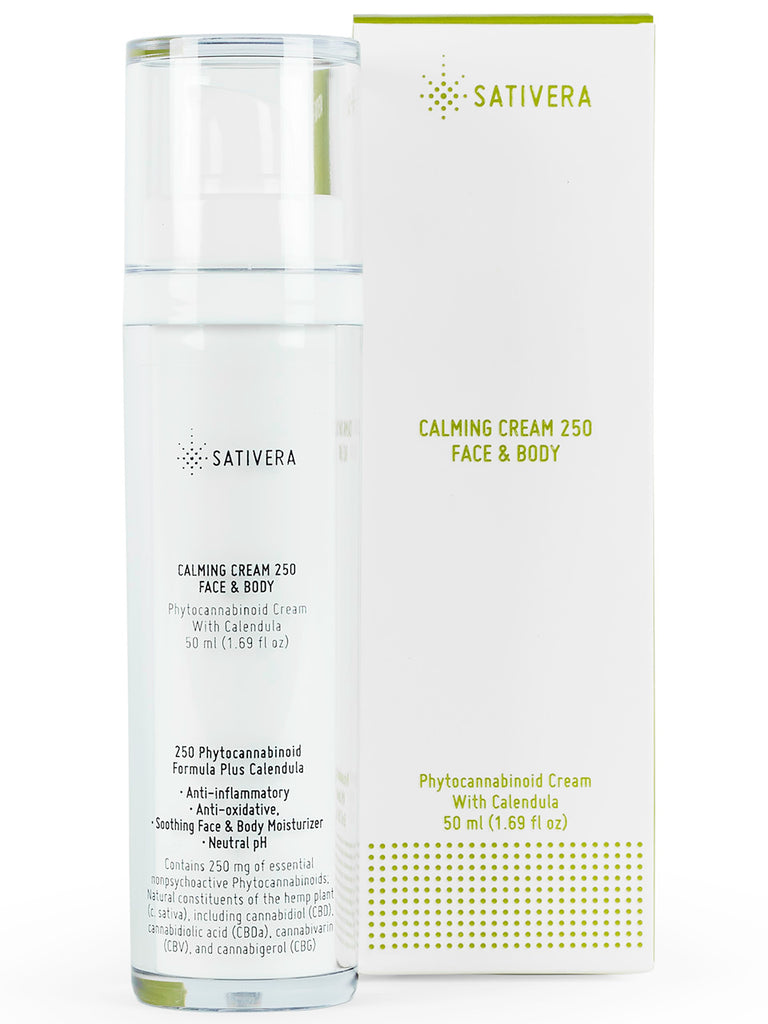 Calming Cream 250
SatiVera Calming Cream 250 Face & Body
is the highest quality topical cream with hemp oil and calendula for a normal and oily skin. Scientifically tested, it helps calm inflammation and nourish the skin, soothes and moisturizes your face and body. 
Calming Cream 250
patented formula contains a balanced blend of natural herbal ingredients from the hemp plant.
High-Performance Non-Steroidal Topical Relief

Calming Effect

Fast Acting and Long Lasting
Calming Cream 250 contains 50ml (1.6oz) of soothing gel. Each application dispenses approximately 0.5ml volume of cream. Apply to affected area up to 3 times a day.
For external use only. Keep out of reach of children.
Hemp plants are grown in the natural open-air climate conditions in Lithuania, Northern Europe, that are proven to be one of the best in the World for this plant. Lithuania is famous for clean air, soil and underground waters. We carefully select the seeds and, before seeding them, additionally examine the chemical composition of the soil to avoid pesticides, herbicides and heavy metals.
We employ science to establish the cleanest and most effective ways to extract herbal compounds. Our derived unique Phytocannabinoid Plus Formula increases the performance of our products. We carefully test and measure each product compound composition in a certified laboratory to make sure you receive the best quality products.
We ensure the product Quality Control all the way in the production chain – from seed selection and planting to medical grade supercritical extraction and product formulations. Our products are manufactured in pharmaceutical laboratory under strict GMP standard.
Full spectrum product formulations contain over 500 active botanical compounds that deliver unique therapeutic properties. Active ingredients include numerous cannabinoids, terpenes, flavanoids, polyphenols, chlorophyll and others.
Our derived unique Phytocannabinoid Formula Plus increases the performance of our products. High concentration of phytocannabinoids together with other active botanical compounds orchestrate with each other producing synergetic Entourage Effect and makes our products even more powerful. Entourage Effect is a scientifically proven evidence that active botanical compounds found in hemp plant work better together rather than in isolation.